PROCESS COOLING AND THERMAL ENGINEERING
Principal Engineer/Business Manager at CTI Compañía Técnico Industrial S.A. for evaporative cooling
and environmental projects; responsibilities also include all programming, i.e. financial/managerial accounting,
job costing, work-in-progress, case study library, contact database.
Cooling Tower Manufacturing & Spare Parts
Industrial Cooling Tower Design and Manufacture (over 1,000) - Small engineering partnership.
Sample repeat customers: Weyerhaeuser, Sheraton, World Trade, Akzonobel, Linde Gas, Radisson.
INTERNATIONAL JOBS
Recent jobs are subject to confidential agreement restrictions.
Cooling Tower Design & Procurement
FLEISCHMANN BOLIVIANA CRUCEÑA - BOLIVIA - Santa Cruz, CA - June 2000 to October 2000
Design and manufacture/export of a small, custom-built, 2-cell industrial cooling tower system plus
replacement parts for redesigned existing 4-cell unit.
Procurement Engineer
INGEFRIO PERU - Lima, Lima - July 1997 to December 1997
Outsourced a number of small cooling towers.

Cooling Tower Procurement/Field Supervision
SANCOR - ARGENTINA - Buenos Aires, Buenos Aires - November 1996 to November 1996
Procurement, supply and field assistance of small 3-cell cooling tower system, assembled onsite,
totaling about 700 m3/h for an ammonia refrigeration system.

Cooling Tower Design & Procurement
FLEISCHMANN ECUATORIANA - ECUADOR - Guayaquil, Provincia del Guayas - February 1991 to August 1991
STEAM CONDENSERS
Arrozur Saman Thermal Station Uruguay - Steam Condenser 2000 Tube Supply (2019)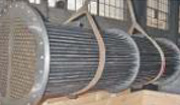 Outstanding performance Improvement!
PUBLICATIONS IN THIS FIELD
SAMPLE Publication Repacking Crossflow Cooling Towers (Spanish)
http://www.engineeringfundamentals.net/PCI2005handouts/papertdf1998crossflow.pdf
August 1998
Step-by-step calculation of crossflow cooling tower calculations using Gauss Seidel.
CONTINUING ED IN THIS FIELD (2015)
More information/updates may be found clicking below:
http://www.engineeringfundamentals.com/BackgroundHighlightsDownloads.pdf
Contact: "Martin Balestie" <answers@engineeringfundamentals.com> (Best!) | phone: (1+) 917 720 36 24 (later on ...)